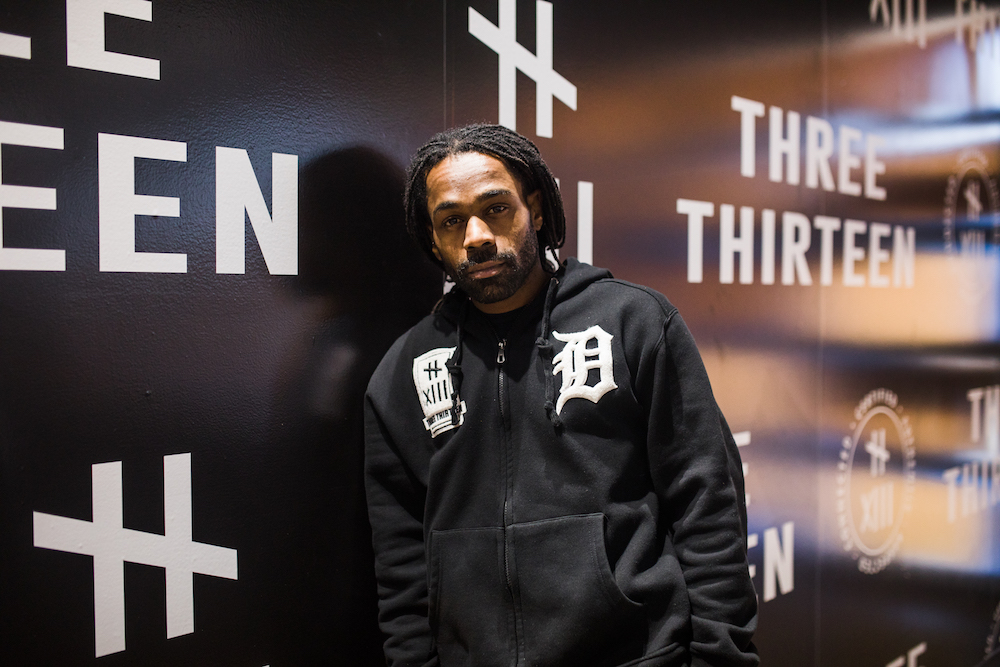 Three Thirteen stays true to its Detroit street beginnings
The Detroit clothing brand celebrates its second storefront on Livernois
Like many self-made Detroit business leaders, Clement "Fame" Brown Jr. started off trapping out the trunk. 
Brown had a vision: Selling original streetwear that was true to Detroit, and something a Detroiter would be proud to wear. His brand, Three Thirteen, takes its name from the city's dominant 313 area code. 
The hustle moved along the natural path from the back of his car to the barbershops, eventually bringing in enough capital – and buzz and co-signs – for Brown to open his first storefront, It took Brown six years of building before opening his first retail store on Jefferson Avenue in the Rivertown neighborhood. 
 "We were beating the pavement and building organically," Brown said. 
Today, Brown opens his second Three Thirteen store on the Avenue of Fashion, joining a growing crop of homegrown brands that have moved from indie sales to big brick-and-mortar business. Detroit is the New Black continues to thrive on Woodward Avenue; Detroit vs. Everybody has grown from a basement in Eastern Market to multiple locations in the region.
What sets Three Thirteen apart is its humble roots and targeted customer. Customers can a real Detroit uniform: Premium denim, an evolved version of the workwear this town is known for, statement T-shirts and custom shoes within the store. Brown has also expanded on the brand's lifestyle section by adding locally made items such as beard and body butters, candles and even mouthwash. Three Thirteen's stock includes local brands as well as big name items. 
"I think there's been a void in the market here for some time when it comes to creators and designers staying here and building their brands here," Brown expressed. "We obviously are fashion leaders when it comes to style nationwide."
He's right. While Detroit has birthed several local brands – Pelle Pelle and Maurice Malone come to mind – and styles, rarely does it stay in the city limits. That sentiment is why Brown is very intentional about highlighting local fashion companies. In addition to his own brand, the store also carries Detroit Vs. Everybody and Detroit Hustles Harder. "What Tommey and Will have done has been nothing short of amazing to me," he said.
The success of Three Thirteen wasn't always easy. Last year, thieves drove through the Jefferson Avenue storefront, destroying the entryway and taking with them thousands of dollars worth of merchandise. The break-in happened during tax return season, which – true to Detroit – is the store's busiest time. 
"With everything there is duality, pros and cons," Brown said. "So I try to find the good when it's a negative situation." 
Since the robbery, Brown has had to invest in more security and staff as well as change what type of items they carry in store. "As a Black man growing up in the city of Detroit, you become accustomed to things being taken away from you," he said.  "I've faced so much adversity growing up here that when it |LS|the break-in|RS| happened, it just became something else I have to get through." 
While many business owners may take this exchange of events and move elsewhere, Brown never questioned the location of his store. "That's not the Spirit of Detroit; I immediately went to the mold of how Detroit raised me," he said. "Leaving was never an option to me."
The momentum built with the first store isn't quite where he'd like it following the break-in, but he's now simultaneously working to regain that while balancing a new second life on the Avenue of Fashion. "Historically, this strip has been known for fashion in the city, so for us to have a prominent place here is a big deal," he said.  
Opening on a day with the same numerical value, customers will be able to celebrate the store and Detroit on March 13th from 10 a.m. until 8 p.m. The grand opening will feature food from Yoshi Hibachi and D & D Cuisine. Celebrity DJs such as DJ BJ3525 and DJ Los will also take turns providing the sounds for the event. 
"We plan to change with the vibration of the city," he says.