About us
Welcome to The Neighborhoods, where we are the spirit of Detroit. We're here to tell your stories from across the city and share them with everyone. East side, west side, southwest — it's our belief that everyone here has a story to tell.
Here at TheNeighborhoods.org, you can learn more about the city's 200-plus neighborhoods (yes, there are that many) in the city, events and happenings, resources for families, information about block clubs, neighborhood organizations and volunteer opportunities, and the people and business that make Detroit home. We're also live on Comcast Channel 21, a City of Detroit cable channel, and MyDetroitCable, the City's YouTube channel.
Have an idea you'd like to share with us? Email TheNeighborhoods@detroitmi.gov or mail us at
City of Detroit — Department of Storytelling
2 Woodward Ave., Suite 333
Detroit, MI 48226
Staff Bios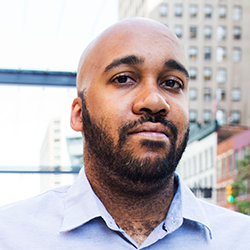 Aaron Foley, chief storyteller
Aaron Foley is a Detroit native, who grew up on both the west side (Russell Woods) and the east side (Lafayette Park) and currently lives on the east side (Gold Coast), although he favors the west side, always. Prior to joining the City of Detroit, he was editor of BLAC Detroit Magazine, and held positions at Ward's Automotive Group, MLive and the Lansing State Journal. He was also Detroit editor for the popular car blog Jalopnik, where readers took note of his point-blank, tell-it-like-it-is takes on the city. In 2015, Aaron published his first book, "How to Live in Detroit Without Being a Jackass." In 2017, he edited the anthology, "The Detroit Neighborhood Guideboook."
What I do: As chief storyteller for the City of Detroit, it's my mission to create a platform where Detroiters can learn more about each other across both geographic and cultural boundaries.
My favorite thing about Detroit: The feeling that no matter where I go on earth, I can brag all about the history of this great city -- cars, music, architecture, everything.
Talk to me about: The Dramatics' discography, the WJLB quiet storm intro, or any other music from Detroit
If I had a superpower, it would be: The ability to stop time
Follow him on Twitter at @aaronkfoley and email him at foleya@detroitmi.gov.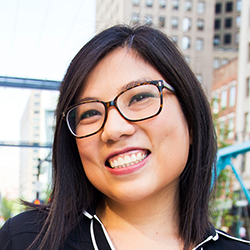 Dorothy Hernandez, storyteller
Growing up devouring whatever book was lying around, including the entire set of the New Book of Knowledge Encyclopedia (yes, she is fully aware she is a nerd) and winning a spelling bee that one time, Dorothy Hernandez discovered a passion for words at a young age. She went to the University of Illinois at Urbana-Champaign where she majored in print journalism. From there she went to work at the Palm Beach Post, The Detroit News and the Chicago Tribune's RedEye edition. While she loved working at newspapers and thrived under deadlines and breaking news, she quit her full-time job as a copy editor to join AmeriCorps to follow a different passion: food. It was during her year of service working at Gleaners Community Food Bank teaching families in Detroit how to cook healthy meals on a budget and working with different community groups that she fell in love with Detroit and its neighborhoods. That's why she is excited to work as a storyteller for the City of Detroit on The Neighborhoods website. Whenever the native Chicagoan isn't writing, she loves to cook, read and watch an excessive amount of Netflix shows.
What I do: Tell Detroit's story through the perspectives of Detroiters.
My favorite thing about Detroit: How it's the biggest smallest city; wherever you go you are bound to run into someone you know! And Eastern Market.
Talk to me about: Food and grammar
If I had a superpower, it would be: Telekinesis
Follow her on Twitter at @dorothy_lynn_h and email her at hernandezd@detroitmi.gov.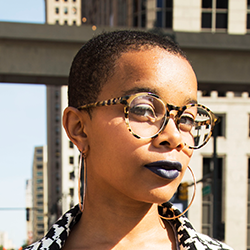 Kinsey Clarke, web editor
Kinsey Clarke is a graduate of Michigan State University. She's trained as a broadcast journalist and has previously worked for National Public Radio in Washington, D.C., and CBC/Radio-Canada in Toronto. She has a hedgehog named Opal and a general love for all things tiny, whimsical and free of cost. In her spare time she trains as a budding aerialist.
What I do: reporting, audio producing, social media engagement
My favorite thing about Detroit: Nobody can make a chicken shawarma how Detroit makes a chicken shawarma.
Talk to me about: Any good anagrams that you've heard, clothing swaps, the "Hamilton" soundtrack, outdoor adventuring, Adventure Time, Steven Universe or crochet.
If I had a superpower, it would be: Bending reality.
Follow her on Twitter at @tinykinseyscale and email her at clarkek@detroitmi.gov.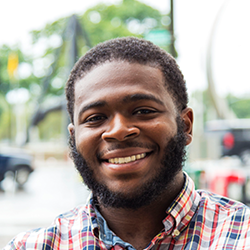 Cyrus Tetteh, photographer
Cyrus Tetteh is a native Detroiter and University of Michigan-Ann Arbor graduate. During his time at Michigan, Cyrus began to blossom as a creative and businessman, teaching himself graphic design, videography, audio engineering, fashion design, photography and more. Cyrus picked up the camera during his freshman year to photograph his clothing brand, Cool Club Clothing. Since then he has accumulated photography accreditation from Rolling Stones, Huffington Post, RapUp, Big Sean, Bloomberg L.P. and the City of Detroit.
What I do: Capturing the best moments in the city that raised me.
My favorite thing about Detroit: After visiting other big cities like New York and Chicago, I definitely appreciate Detroit's chill vibe. I can drive anywhere that I want to go and it'll only take 20 minutes or less. Traffic stresses me out!
If I had a superpower, it would be: Teleportation and being in two places at once.
Follow him on Twitter at @supercyrusb and email him at tettehc@detroitmi.gov.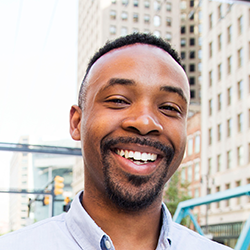 Jeremy Brockman, videographer
Jeremy Brockman is a cinematographer from Detroit. His love for filmmaking is grounded in his belief that thoughtful storytelling creates a gateway to promote better understanding of other cultures and ideas. Jeremy has lensed award-winning short films that have screened at film festivals locally and nationally. In addition to short narratives, Jeremy has also served as Director of Photography in the documentary and music video realm for clients such as the Detroit Medical Center and Universal/Motown Records.
Jeremy is a graduate of Wayne State University and is proud to live, work, and play in the City of Detroit.
What I do: Create authentic images of fellow Detroiters.
My favorite thing about Detroit: Going out of town and "being from Detroit". Also, BBQ Better Mades.
Talk to me about: Anything about Africa and the African Diaspora, obscure foreign films from years past and science that could be fiction.
If I had a superpower, it would be: Time travel. I need to see how it really happened.
Follow him on Instagram at @Brockfeb and email him at brockmanj@detroitmi.gov.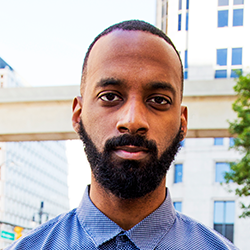 Zachary Cunningham, videographer
Zachary Cunningham is a director, writer and poet from the east side of Detroit. Beginning with his original piece #Detroit, Zachary hit the ground running creatively while teaching himself the craft of filmmaking. His passion for poetry inspired the jazz-infused art pieces Bess Part's I and II. As his skills developed, he began exploring documentary filmmaking, which led to his mini documentary "The Strength To Persevere," which chronicled his father's upbringing as an orphan. The documentary went on to place as a finalist in the 1st Annual Worldwide FilmConvert Cinematography Competition. He soon began scripting his first two narrative short films "The Crack" and "Regret(s)" in late 2012. A premiere for both films was held at the Millennium Center in Southfield on Feb. 28, 2014. Zachary was featured in publications BLAC Magazine and Ambassador Magazine to discuss both films. Zachary has also taken the role of cinematographer on various short form projects including the romantic comedy "The Price of Being Wanda" directed by Pierrot Joseph and "TORMENTO" by Greg Dockery (an official selection of the Cinetopia Film Festival). He has recently completed production for his third short film titled "You Better Run." Zachary hopes to use film as a platform to his people's story.
What I do: The same thing Stokely Carmichael did, I just have a camera.
My favorite thing about Detroit: The people. I've learned most of what I know from Detroiters.
Talk to me about: Anything historical. Black history, film history, etc. I also love a great hip-hop debate.
If I had a superpower, it would be: To heal people
Follow him on Instagram at @zachary.cunningham and email him at cunninghamz@detroitmi.gov.