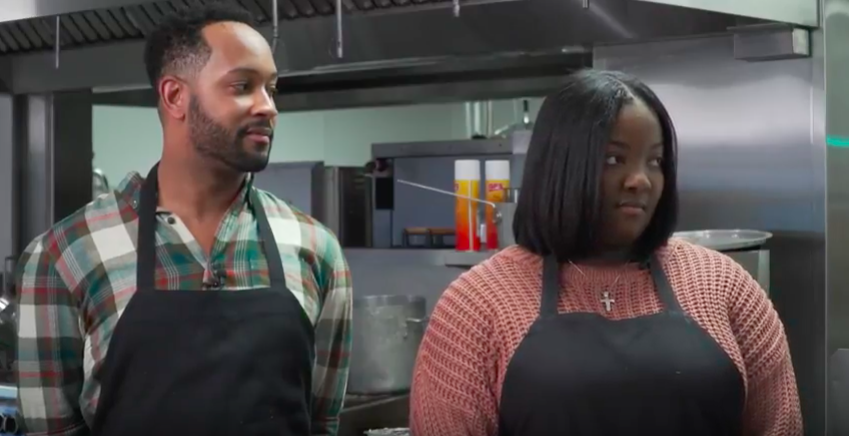 See two chefs battle it out in Detroit's Best Home Cook!
Who will take home the prize?
The Neighborhoods and Eastern Market teamed up this year for Detroit's Best Home Cook, a cooking contest where amateur chefs had to use local ingredients to craft their favorite dish for a panel of judges.
Our two contestants each hail from the west side of Detroit: Theodore Washington, a cake artist from NW Goldberg, and Lauren Gillon, a student and abuse-center worker from Weatherby. The winner receives a one-day pop-up at Eastern Market, where they'll be able to demonstrate their skills.
Theodore Washington
Growing up in the NW Goldberg neighborhood, Washington was homeschooled between a transitional period of going to Academy of the Americas in Southwest and then moving out to Walled Lake when his father wanted better schools for Washington and his brother and sister. His siblings are active in their NW Goldberg neighborhood, and Victoria is a co-founder of Detroit Dough. The matriarch of the family was a stay-at-home mom, raising Washington and his siblings and making sure there was always a cooked meal made from scratch on the table. Watching his mom cook sparked an early appreciation for food.
"I would wake up in the middle of the night and open the refrigerator and pull a few things out and they'd wake up to 12 eggs and bacon or whatever.
"We didn't do a lot of fast food. When we did go out to the restaurant, it was after church on Sundays or special occasions," he adds.
Read more of Washington's story here.
Lauren Gillon
She remembers one of the first meals she made was Velveeta shells and cheese, chicken breast and green beans. It may have been all processed foods, but not even Julia Child started off cooking beef bourguignon.
"It was just so stress relieving," Gillon says of when she first started cooking. She started documenting her cooking adventures on social media.
After a while, people would comment on what she made on Snapchat and then her friends started coming over for dinner on Sundays.
Read more of Gillon's story here.
Helped along by Eastern Market's Chef Aaron Egan, the two cooks each had to use some mystery ingredients straight from the market in their respective dishes. Who impressed the judges the most? Watch below!