A sweet family business in Fitzgerald
Lucki's Cheesecake specializes in New York-style cheesecakes in creative and whimsical flavors
As Small Business Saturday approaches, The Neighborhoods will be highlighting small businesses across Detroit this week. Our last stop is Lucki's Cheesecakes in Fitzgerald.
"We got some newbies!" the woman behind the Plexiglass exclaimed as we perused the case at Lucki's Cheesecake teeming with fun flavors such as Purple Rain (in honor of the late, great Prince), Superman and Cheesecake Mix-up.
Lucki's Cheesecake in the Fitzgerald neighborhood started when then-15-year-old Lucki Word started selling cheesecakes out of the family's home. She learned how to make New York-style cheesecake from her grandfather, so she decided to put her skills to use to help her mother, Rhonda Morris, support the family.
The cheesecakes got so popular that Morris quit her three jobs and became an entrepreneur to launch the business. Today they have their location on West McNichols and have been approached to sell cheesecakes at several locations around town. Aside from gourmet cheesecakes, they offer sugar-free desserts, cakes and homemade ice cream.
We were told that some of the most popular flavors are Superman (as well as a Superman version with cake and cheesecake), peach cobbler and strawberry. Just in time for the holidays, they have a sweet potato and banana pudding creation.
Chief Storyteller Aaron Foley got the Superman, Web Editor Kinsey Clarke chose Turtle and after much internal debate I selected Strawberry Crunch.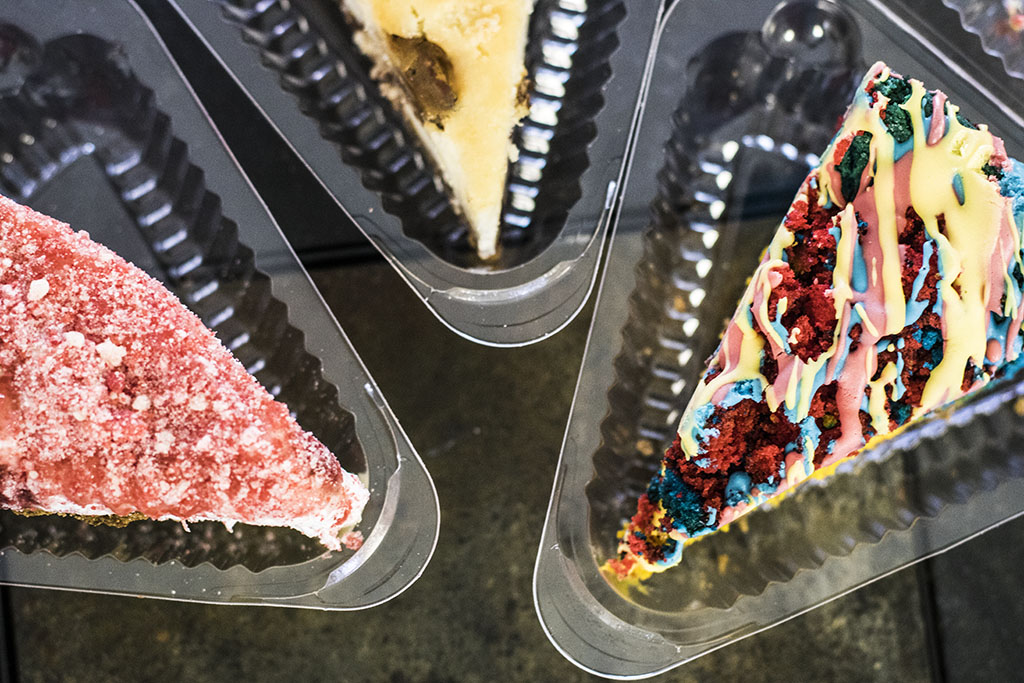 We all had to take it to go because we were stuffed from lunch, but we enjoyed our respective slices as a late-afternoon snack. Here are our reviews:
KC: This cheesecake was sweet. Super sweet. I couldn't finish it all in one go and had to eat two or three bites at a time. That said, I did enjoy my first bite even if it was a bit overwhelming afterward.
AF: Despite growing up in Michigan, I have a hard stance against Superman flavoring, that trippy, kaleidoscope-like confection that originated in dairy shops here. I am of full belief that dessert should come in one color and one color only. But the staff at Lucki's convinced me it was a must-try, so OK, just this once. I'm glad I did. It was sweet, very sweet. But it was also rich, because I've had too many slices of cheesecake that were too rubbery, too moist or too thick. As for the flavor, it definitely had more of a blue moon (what exactly is blue moon?) taste, which lends to Lucki's expect-the-unexpected when it comes to cheesecake flavors.
DH: This cake, just like the other cakes, is beautiful to look at. Atop the cheesecake layer is another layer consisting of whipped cream, nuts and strawberry. This is a strawberry lover's dream cheesecake. It is incredibly sweet so it's best to savor it slowly because I felt like I was going to go into sugar shock if I kept scarfing it down at the rapid pace I was enjoying my cheesecake. But the texture is on point: creamy and silky.