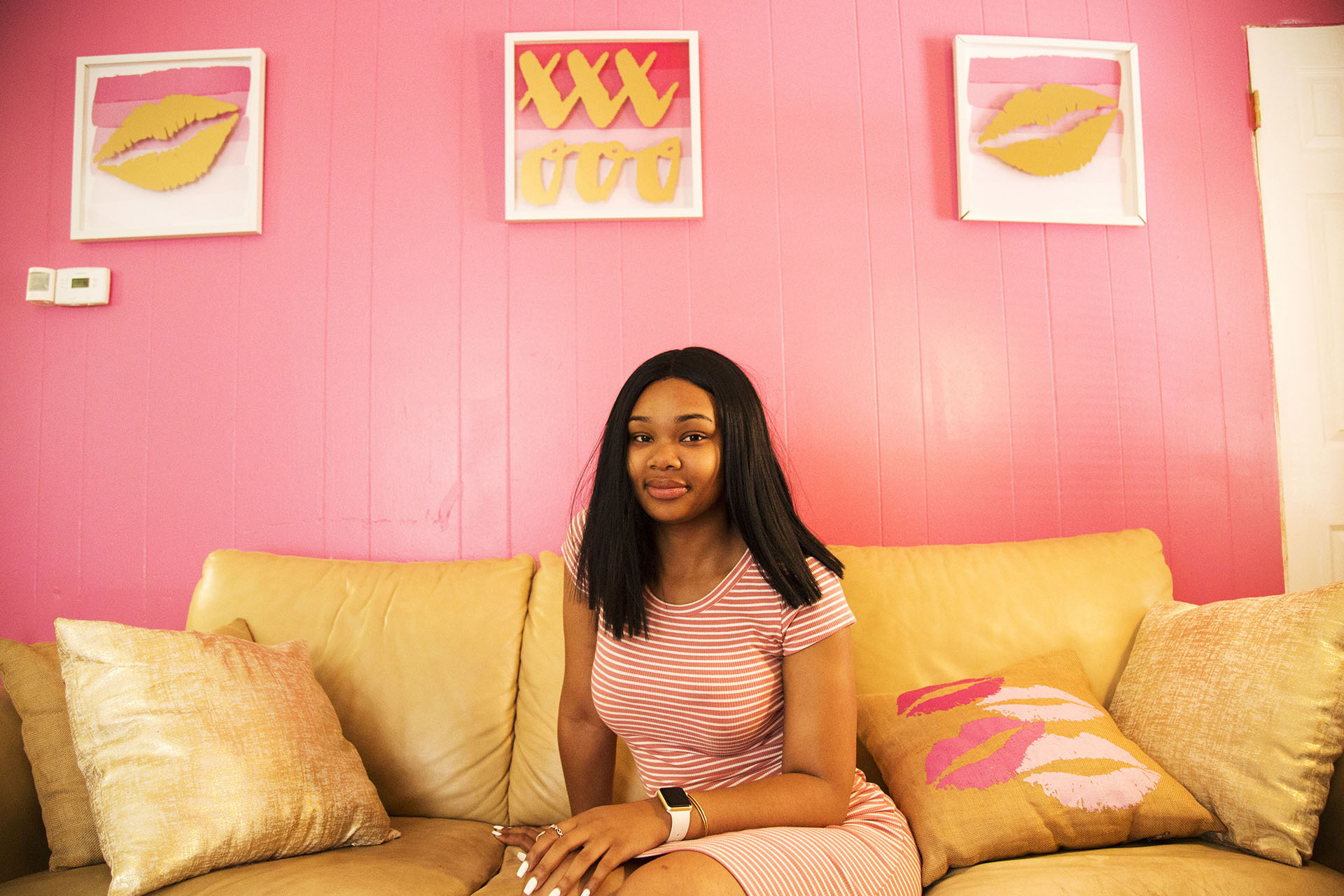 After domestic violence, a young woman finds refuge in Brightmoor
How buying a home at age 21 saved a young woman's life
In the warmly lit back corner of a trendy Midtown tea shop, Roxanne Johnson waited at a table. The shop, Socra Tea, is subterrane, but the placement of comfortably worn couches and scent of richly steeped teas made it seem more like a fox's den. It was a pleasant contrast to the rain that fell outside.
Her story was supposed to be a quick profile of a millennial with enough financial literacy and foresight to buy a fixer-upper in Brightmoor at the age of 21. (The suggested headline at the time: "Why millennials are moving to Brightmoor.") That part of her story is still relevant, because it actually saved her life.
 
Roxanne had just big-chopped her hair and dyed it blonde — a change she was excited about — but on the day we met she was wearing a wavy black wig. It was for work, she told me. "I don't feel like having a conversation about hair all the time with them. There's nothing wrong with it. It's just that I don't want to hear, 'Oh, so what do you do to it?' " 
 
She was referring to the way that white and non-black people of color can often ask well-meaning but often invasive questions about black hair. She had to work later that day, and she wanted to avoid the conversation. We spoke a bit more about the politics of black hair; two black women sharing similar stories of microaggressions regarding what grows out of our heads, and the conversation flowed from there.
  
Roxanne said her initial motivations for becoming a homeowner stemmed from her wanting a place to call her own. Tired of not having a fixed place to call home during high school and college, she finally paid $2,500 for a house she found listed on Zillow after previously looking through listings on the Detroit Land Bank Authority's auction site. 
She had been living with her boyfriend for some time before buying her home. His father was in real estate and offered to either check through all of Roxanne's transactions or point her to a title service. "And I was like, 'I'll just go through a title service.' Because I felt like (her boyfriend) was going to buy a house up near me." Her answer didn't register as odd at the time, and she continued telling me about the home-buying process.
Listening to Roxanne speak, I was impressed at her level of financial literacy. Although she insists that she "just winged" the entire process, I don't know any 20-somethings (or 30-somethings, for that matter) who can easily rattle off step by step how they bought their own house. She took me through how she become a homeowner: how she contacted Commercial Title Service to get the title to her house, how she got the deed notarized, how she found out about any existing bills, the processing times. "Basically, all I had to do was write a check," she said. 
 
I asked her if she'd celebrated this milestone yet, expecting to hear that she and her boyfriend had moved in together and celebrated with a housewarming. She hadn't.
 
"So last year, actually," she said. "It sucks, but last year my ex-boyfriend had shot me. So I had to hurry up and move out of his house." 
 
With a gun?
 
"Yes," Roxanne said, repeating herself. "So that's why I had to move into the house prematurely before it was done. So when I was living in there, I was literally limping around."
 
I asked her if she's charged him with anything. She chuckled nervously.
 
"No," she said. "Unfortunately, I didn't."
  
I asked her how she was able to laugh through her situation. Roxanne paused. For a long time, she said, it was a very sensitive subject. Now, she's ready to speak about it. 
 
"I would've stayed if that didn't happen to me. So, I look at it more so as something that happened to me that had to happen," she said. "It had to happen in order for me to grow. I really believe that."
 
I made a noise in objection, but Roxanne continued. "And it's crazy because people be like, 'How do you smile? How do you go through it? If I went through that, it would do this, that, and the third to me.' But, it really, like, it was an adrenaline push. I don't know what happened to me. It was like…"
 
"It was survival," I finished.
 
"Yeah," Roxanne agreed. "It was like fight or flight. It was like, OK, this is what you need to do, Roxanne."
In the early hours of June 9, 2016 she and her then-boyfriend had just come home from watching the NBA Finals at a local bar. The Cleveland Cavaliers had just bested the Golden State Warriors in Game 3. Roxanne thought her phone was stolen, so she used his phone to find hers. She found evidence that made her suspect that he was cheating on her.
Roxanne said that by the time they arrived home, her missing phone, the evidence of infidelity, and the drinks they'd shared bolstered her anger. The tensions between her and her boyfriend had been building for months. She had closed on her house three months before March 8 of that year. "And I'm like, 'You know what? I'm irritated, I already got my house, I don't need this, I'm going to move out,' " she said.
Roxanne says that she and her ex got into an argument that escalated into a physical altercation after she said she was leaving. "He like, 'Don't leave, don't leave, don't leave, don't leave,' " she said. 
Then, he took out a gun and shot into the ground. 
"He shoots at the floor, and he shoots again. And the hollow tips of the bullets just shattered into my legs."
 
Roxanne collapsed. "I was like, 'You shot me!' and he's like, 'Back up off me!' And he shot again, and it grazed my arm. And I don't know if it was a reflex for him to say this, but he was like, 'I'm bout to call the police.' "
 
After the police were called, Roxanne spent the night in the hospital.
At the hospital, Roxanne was told that the bullets did not penetrate her. The bad news, she said, was that the shrapnel from the bullets could potentially puncture arteries in her legs and cause internal bleeding. "My leg was purple from my kneecap to my ankle," she said.
 
The doctors gave her a choice: Go into surgery and have the shrapnel removed, or allow her body to naturally release the pieces of metal on its own. She was concerned that if she went into surgery she would be bedridden and unable to go to work, something that would raise suspicions about her personal life.
 
Still in the hospital, a social worker visited Roxanne to take down the report of what happened that night. Roxanne said she was apprehensive of putting a black man behind bars, so she refused to release his name or press charges. She was offered a ride from police officers to stay in a shelter, but she refused that as well. "I just wanna move away, I wanna go, I want this to stop right here. I want this to be the end of this," she said at the time.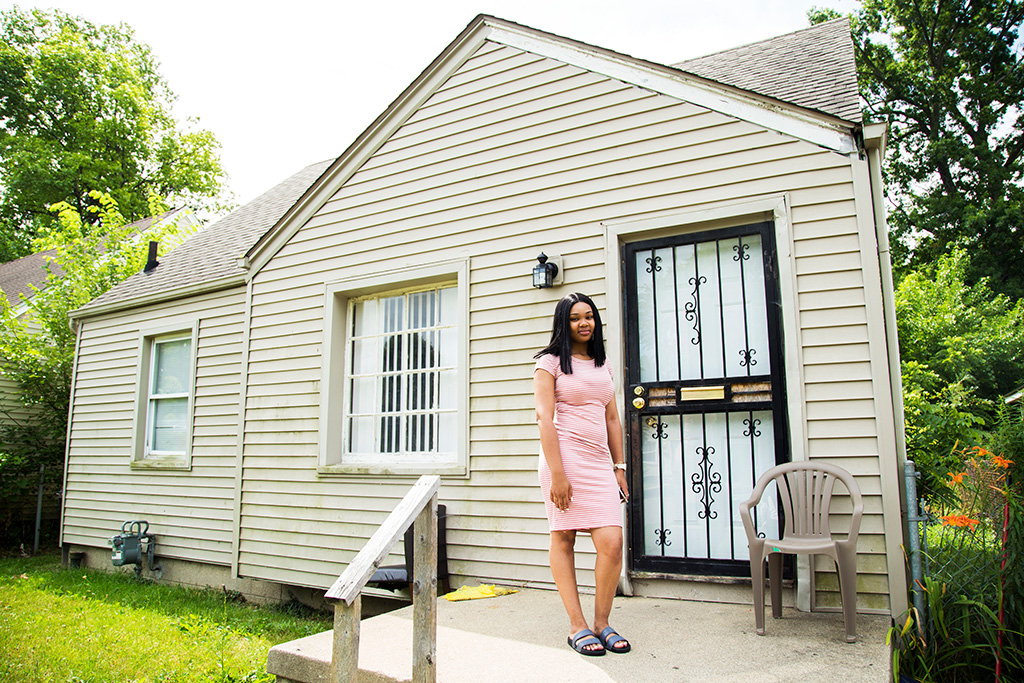 The social worker agreed to not make Roxanne press charges, but figured out the identity of Roxanne's attacker was when Roxanne decided to go through with the surgery and didn't want her emergency contact to be notified. Her attacker, who she did not want named in this story for her protection, was taken into custody that night for aggravated assault.
 
After the surgery, Roxanne stopped answering her phone. Wanting to be alone, she threw herself into fixing up her house. "That was my vice at that point."
 
As for her attacker, he was released from jail about 48 hours later. Now, Roxanne says, "He's living his life. I'm living my life." She shrugged.
 
From that night, Roxanne has kept a memento: the jeans she was wearing the night she was shot. 
 
"They're just a sign of accomplishment," she continued. "At that point, I remember I felt like I wouldn't be able to walk because I didn't know what happened to me. Now, I feel like I see it — and it's so crazy because I didn't wash the jeans after it. The blood is stained there."
*            *            *
She moved in the day after her attack, on June 10. In the three months between the purchase and the assault, she was working on her home every day. "I would literally wake up at 6 a.m. every day, go over to the house, and do something," she said.
She had a rough life, she said, growing up poor in the Barton-McFarland neighborhood by Joy Road, Livernois and Wyoming. "People were saying 48204 was one of the worst neighborhoods in the United States, and I said, 'If I can make it out of there, I can make it out of anywhere.' "
"I went from being in high school and homeless, and then moving to college and living in the dorms, to owning my own house," she said. "So when everybody was like, 'You moving to Brightmoor?' I was like, 'Well, I'm a tough cookie. I think I can handle it.' "
$7,000 went into renovations. Although she did hire a contractor to do her electrical wiring, plumbing and flooring, Roxanne did most of the renovations herself, often consulting YouTube for instructions on how to tear out walls and paint. She said that the first time she painted the walls in her new home, "I tore it up," but learned and touched up as she went.
"I never knew you were supposed to paint the ceiling before the walls," she said. "I had to learn it sometime, so I guess I learned it before everyone else."
She knew to look at the roofing and foundation before closing, and to pay attention for rodent or insect infestation because it signals holes that might need to be patched up. That's the key, she said, to making your fixer-upper "presentable."
The summer months are still sometimes difficult for Roxanne. She can't stand the sound of fireworks. People ask her if she has a gun in her house for protection, but after the night of her attack, she says she's been terrified of guns. Since moving in, she's gotten a roommate.
  
June 9 was just over a year ago, but it still colors Roxanne's interactions with other people. When she talks, she often describes events as "after the shooting." She told me how she'd missed out on celebrating her birthday in the weeks following the attack because, "'Last year at this time, I was limping. Couldn't wear heels,' " she laughed.
 
Working on her house, Roxanne said, she got to know herself. She realized that the shooting wasn't her fault. "So at that point," she said, "It made me feel like I can do anything." 
  
Eventually, she'd like to speak to young women about domestic violence, preferably from a platform of politics and education. But for now, she's working toward graduating in April from Eastern Michigan University with a political science degree, and working on her home.
"I really feel like you can't put a price on a peace of mind, so to go years and years living in dorms and living with boyfriends to get somewhere where I can have pink walls, and if I wanted a tapestry on the wall I could do it, and if I wanted sparkly lamps I could do it," she said. "It's a small house, but it's very much my house. I love it."
I asked her if she thought she would own the house forever after all the physical and emotional labor she's put into it. 
"If I have a kid, I want them to be able to play in a backyard. I don't wanna live in an apartment complex," she said. "I want them to be able to have their own room. I want them to be able to be outside. I always said I want to keep the house, even if it's in my family. I probably won't sell it. I'll probably pass it to somebody."
 
"Maybe 10 years from now, when I buy a new house, I can say that this is where it started. This weekend, I'm gonna go buy a tree so that even if they ever knock my house down or anything like that, my tree will still be there."
If you or someone you know is trapped in a violent relationship, there is help. It is not your fault, and your safety is of the utmost importance. For more information about domestic violence resources in Wayne County, please click here. For information about domestic violence prevention and resources in the State of Michigan, please click here.
 
[/html]