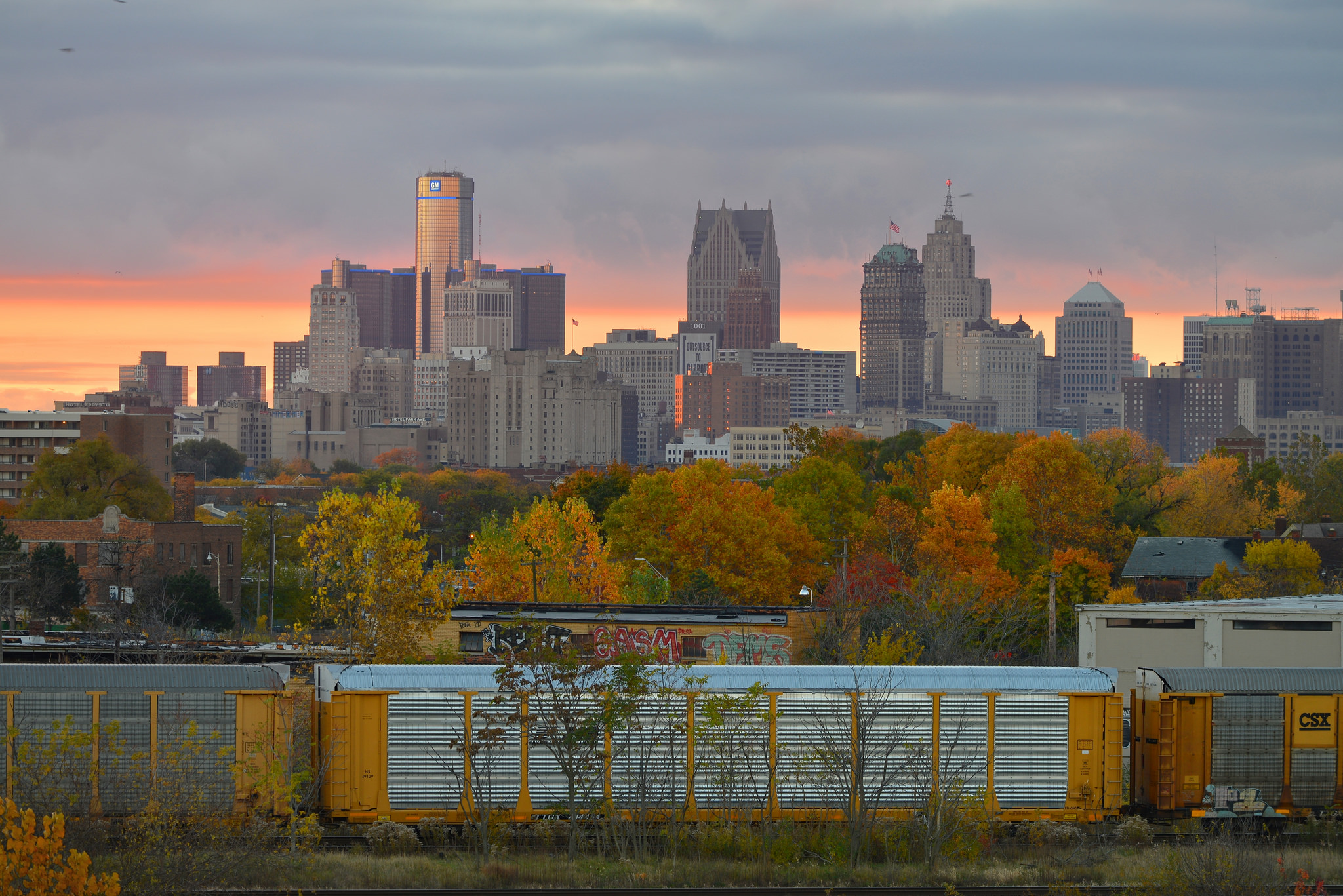 12 places to see fall colors in Detroit
Here's where you can see fall foliage in Detroit
Autumn in Detroit is a special treat, and peak viewing times are rapidly approaching. This year, try using a predictive map and our Tour of Trees map below to plan your foliage viewing in the city. Here are our picks of the best places in the city to watch the seasonal change.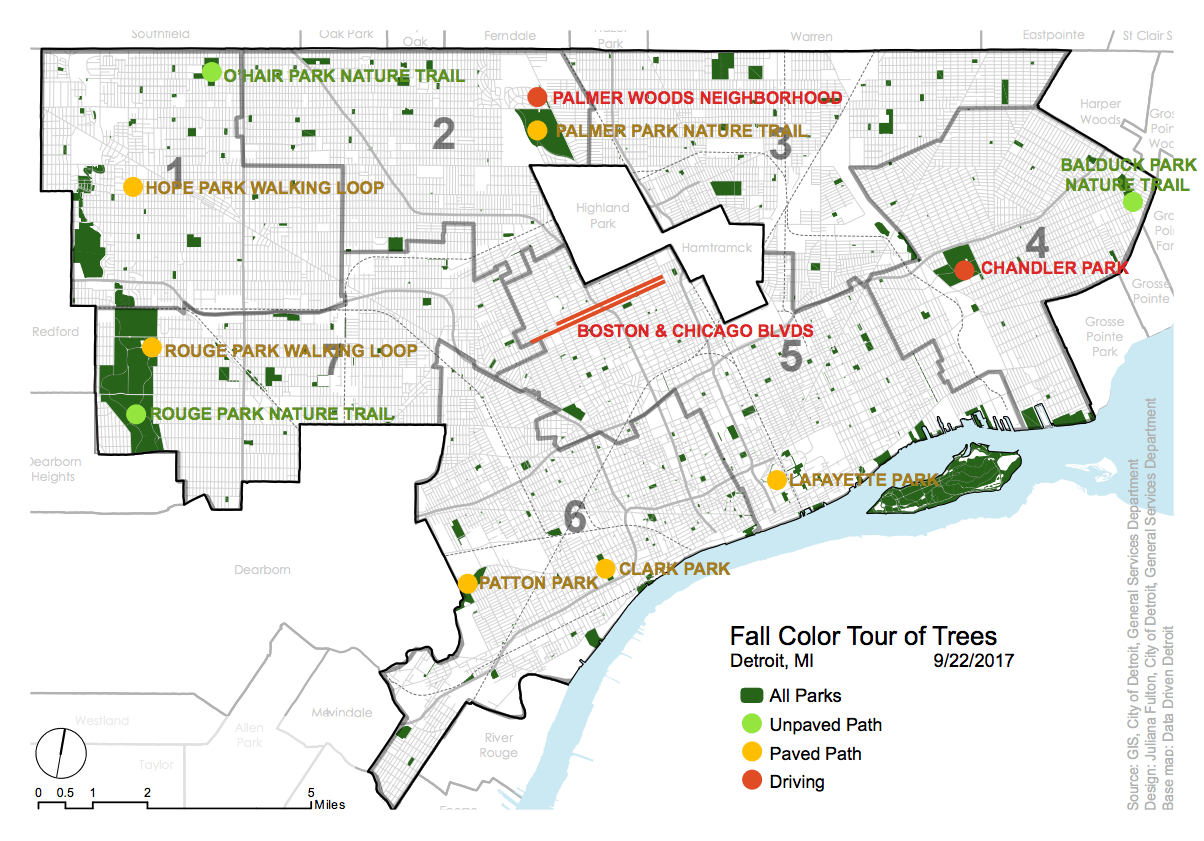 O'HAIR PARK NATURE TRAIL
Marvel at the brilliant fall colors of the mature forest at this 80-acre park by traversing O'Hair's unpaved trail, evoking the feeling of being in the great outdoors without leaving the northwest side of Detroit.
CHANDLER PARK
Chandler Park is 100 years old, so what better way to celebrate the centennial park's milestone than to appreciate it in all its autumnal glory? Watch the early autumn sun filter through the rolling, tree-dotted landscape and marshlands as you coast down Chandler Park Drive.
HOPE PARK WALKING LOOP
Hope Park, near McNichols and Lahser, features a paved walking loop to help you enjoy your fall color tour. Detroit Institute of Technology College Prep High School students spearheaded the park, which was designed using environmental principles and envisioned as a community space on a vacant lot across from Cody High School.
BALDUCK PARK NATURE TRAIL
Located on the far east side of Detroit between East Warren Avenue and Chandler Park Drive, Balduck Park is an unpaved forested walking path. Experience the full scope of nature and autumn with their picnic shelters, play areas, and other amenities.
ROUGE PARK WALKING LOOP
On the northwest side near Brightmoor and Warrendale, this recreational haven offers several gems to explore such as the historic Brennan Pool and the golf course. Among Rouge Park's 1,200 acres is a paved walking path to admire the trees' transition from summer to fall.
ROUGE PARK NATURE TRAIL
Embark on your fall color journey by finding the trailhead to this nearly 1-mile loop located within Rouge Park on Tireman Avenue east of Outer Drive. It features teaching tools for nature and animals, making it an ideal spot to take the whole family. The path is unpaved and there are a couple of places where the trail has stairs made from the woods' natural resources, but it's still easy to hike. Don't forget the camera: the stone bridge, stairs and river offer prime photo ops.
CLARK PARK
Located in the heart of Hubbard Farms, Clark Park hosts year-round sports and outdoor activities. With 31 acres of land to explore, this paved park is a great choice for those wanting a more integrated feeling of community events and natural resources as the leaves transform into a fiery canopy of reds, oranges, and yellow.
PALMER WOODS NEIGHBORHOOD
With its beautiful homes and tree-lined streets, the Palmer Woods Historic District is a picture-perfect neighborhood to cruise through any time of year. It was designed in a way to capitalize the area's natural beauty, and the neighborhood's curbless, gently curving streets keep traffic down to a leisurely pace. But this time of year, it's also one of the most picturesque drives to enjoy fall colors without having to go up north.
PALMER PARK NATURE TRAIL
Enjoy the neighborhood's natural beauty by biking or hiking on the park's 10-plus miles of winding trails in the largest "Virgin Forest" in the tri-county area and one of seven in Detroit. In Palmer Park, some of the oaks are older than 350 years, making for some brilliant fall foliage. Located in northwest Detroit, it's bordered by Seven Mile to the north, McNichols to the south, and Woodward to the east.
BOSTON & CHICAGO BOULEVARDS
Tour the Boston-Edison District from the comfort of your car! This historic neighborhood is bordered by Woodward to the east and Linwood to the west. Grab a camera and update your Instagram with photos of its stately homes and tree-lined streets.
PATTON PARK
Why visit Up North when this Springwells Village park is in city limits? Along with a pond and marsh area, Patton Park has paved paths – making it the perfect place to ride a bike or take an afternoon stroll to enjoy the changing colors.
LAFAYETTE PARK
Just east of downtown is Lafayette Park. This leafy, paved path is bordered by East Jefferson Avenue to the south, St. Aubin to the east, Fisher Freeway/Gratiot Avenue to the north, and Chrysler Drive to the west. The Dequindre Cut – also a nature path – runs along St. Aubin and connects pedestrians and cyclists to the Riverfront and Eastern Market.
Header image: Wade Bryant, flickr.com
Teaser image: alexwhecht, flickr.com